Solutions delivered with integrity at every stage of product development
| Development Phase | PV Plan/RMP | SAE/ADR/MDR Management | Medical Review | Risk-Benefit Evaluation | DSUR/IND Report | Safety Monitoring Board | Integrated Safety Summary | PSUR | Post Authorization Safety Studies | Signal Detection |
| --- | --- | --- | --- | --- | --- | --- | --- | --- | --- | --- |
| Phase I | | | | | | | | | | |
| Phase II | | | | | | | | | | |
| Phase III | | | | | | | | | | |
| Marketing Authorization | | | | | | | | | | |
| Post Marketing | | | | | | | | | | |
1. Medical Information Safety Management
Flow of Medical Inquiry Handling
Multi-Channel Medical Information Handling
Compliant with: telephone, email, fax and letter, social media platforms.
CRL can also design, create and host a medical information website or portal for your company or individual products.
Multilingual Call Handling Services
Compliant with English, French, Hindi, Gujarati etc. Other languages can be supported by utilizing an in-line translation service.
Query Management System
Frequently Ask Questions (FAQs) and Standard Response Document creation and maintenance
Adverse Event and Product Quality Complaint Handling according to client specific operational guidance documents
Out of Hours Service Provision
In addition to covering standard business hours of operation, CRL can provide a 24 hour service, 365 days a year if required, ensuring you a round-the-clock medical information service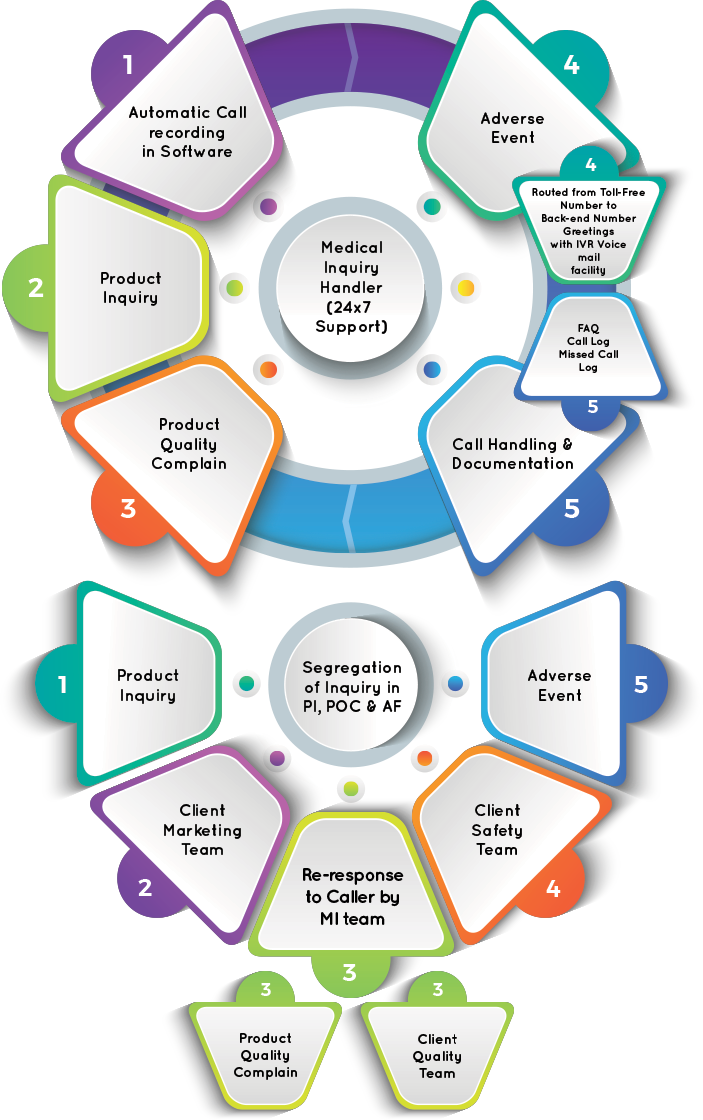 ---
2. Clinical Trial Safety Management
Safety Management Plan (SMP) Preparation
Drug Safety Monitoring Board (DSMB) Handling
Risk Management Strategies
Safety Management Plan (SMP) Preparation
DSUR (Development Safety Update Report)/ASR (Annual Safety Report)
Experience of Clinical Trial Safety MonitoringExperience of Clinical Trial Safety MonitoringExperience of Clinical Trial Safety Monitoring
Phase of Study
Indications/Molecules
Total Number of patients
Phase I
Peg-GSCF, Erythropoietin, Darbepoietin, Bevacizumab, Trastuzumab etc.
536
Phase II
NSCLC
70
Phase III
NSCLC, DLBCL, MBC, NHL, mCRC, Solid Tumors, CML, Anemia of Cancer, Fibroid, Functional Dyspepsia, COPD, Hypertension,
2300
Clinical Equivalence
Acne, Osteoarthritis knee, Scabies
4350
Patient based PK study
Schizophrenia, MBC, Parkinson's disease, Epilepsy, HIV, RA, CML
560
Our Expertise
Leaders in oncology & biosimilars
Phase I-IV, Patient based PK & CE studies
Clinical Trial Safety Management experience for USFDA, EMEA, DCGI etc
Expertise of handling the safety profile of 7800+ patients across various studies
---
3. Post Marketing Pharmacovigilance Services
1. Literature Management
Review by Medically qualified personnel
Peer review and quality review
Review of articles for inclusion in ICSRs, aggregate reports and signal detection
Review of local literatures and translations
Literature search -Toxicology reports

Medical devices
Product development programs
Mitigation of medical practices lawsuits
Literature Review Activity
Setting of RSS string in Pubmed/Embase
Dedicated e-mail ID for literature hits receipt
Hits evaluated on weekly basis by Medically Qualified Person
Assessment of Full Text requirement
Valid ICSRs as per regulatory requirement and client conventions will be transmitted to case processing team
Quality check of entire process on ongoing basis
Maintenance of tracker and folders on ongoing basis
Quality Assurance review of entire process as per Audit Planner
2. ICSR Management
Unique Offerings:
Validity Check of ICSR by Medically Qualified Personnel before ICSR generation in database
Triaging by Medically Qualified Personnel
Independent Quality Check of 20% ICSRs each month
Periodic updates to the client as per requirement
ICSR Project Management
Understanding Client Requirements
Mapping of regulatory requirements for case submission
Identification of the core team & training on client conventions
Setting of targets and tracking mechanism
ICSR Database Flow
Case Input
Spontaneous cases
Literature
Solicited (Clinical Trials/Registry/PMS etc.)
Regulatory
Case Intake
Validity Check
Duplicate Check
Book – in to Database
Triaging
Case Processing
Data Entry
Quality Review
Medical Review
Case Closure
Case Output
CIOMS - 1
E2B R2 & R3 xml
Med watch 3500A
VAERS
3. Aggregate Reports
DSUR (Development Safety Update Report)/IND Annual Report/ DASR (Development Annual Safety Report) – Periodic reports required during clinical development
PADER (Periodic Adverse Drug Experience Report) – Post marketing periodic drug safety reports required for USFDA as per 21CFR 314.80 and 600.80
PBRER (Periodic Benefit Risk Evaluation Report) – ICH E2C(R2) format
PSUR (Periodic Safety Update Report) – EMEA format
ASR (Annual Safety Report) – Health Canada
Integrated Safety Summary (ISS)
Addendum to Clinical Outcomes (ACO)
Our Strengths:
Methodical Writing Processes
Robust quality review
Effective benefit risk assessment
Compliant and thorough reports
4. Risk Management Activities
Risk Management Plans (RMP)

Risk minimization measures
Post Authorization Safety Studies (PASS)
Surveillance Studies

Risk Evaluation & Mitigation Strategy (REMS)
Proposed REMS strategy
Shared REMS documents
5. Signal Management
Signal Detection – Qualitative and Quantitative
Signal Validation – Compliant with regulatory requirements
Fueled by Regulatory Intelligence
Thorough medical and QPPV review
6. Label Management
Company Core Datasheets (CCDS)
Company Core Safety Information (CCSI)
Package Insert – PI
Summary of Product Characteristics – SmPC
Our Expertise
Preparation of Label
Updation of Label
Label schedule management
7. Pharmacovigilance Master File
PSMF – Pharmacovigilance System Master File
PVMF – Pharmacovigilance Master File
PSSF – Pharmacovigilance Sub-system Master File
e-PSMF software – effective tool to maintain Pharmacovigilance System Master File
8. Agreements
Safety Date Exchange Agreements
Legal Representative Agreements
9. Additional Region-specific Services
EMEA
EudraVigilance product management - xEVMPD
European Union-qualified person for pharmacovigilance (QPPV)
In-country pharmacovigilance services, including national contact persons (RP)/QPPVs
India
PVOI – Pharmacovigilance Officer In-charge
---
4. Pharmacovigilance Support Services
Auditing & Inspection Support
Third Party Audit support for your PV system
Support during PV inspections
Training
Training for sales and marketing staff for safety reporting
Training for in-house staff on Good Pharmacovigilance Practices (GVP)
Customized training for Literature Management, ICSR processing and Aggregate report writing
Online and Onsite options
Consultation
Development of pharmacovigilance system
Standard Operating Procedure (SOP) development